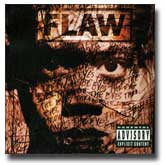 Artist Flaw
Album Through The Eyes

Musicians
Chris Volz - vocals
Ryan Juras - bass, vocals
Lance Arny - guitar
Chris Ballinger - drums
Jason Daunt - guitar, keyboards
Track Listing
1). Only The Strong
2). Payback
3). My Letter
4). Get Up Again
5). Whole
6). Amendment
7). Scheme
8). What I Have To Do
9). Inner Strength
10).Best I Am
11).Out of Whack
12).Reliance
13).One More Time
Record Label Universal Records
Reviewed By Ellen B. Gold
The Opinion
The five members in Flaw act out their imperfections by combining heartfelt lyrics and rhythm which flows through their music. Taken from real life experiences, the lyrics in Flaw are equally matched with smooth tones and unbelievable harmonies. Vocalist, Chris Volz, has total control of his voice, going from tremendous screams to flowing melodies that echo in the distance. Within breathes, altering his voice from heavy to light, Chris captures the feelings from the lyrics exactly the way they are suppose to be.
Flaw has an ordinary sound with true emotions that compliment their creative musicianship. Through The Eyes is filled with strong feelings that capture distress and sadness, among sorrow. Identifying their weaknesses, Flaw acts out their frustrations in the music they play.
With an amazing recording produced by David Bottrill, the album catches every tune, every sound and every emotion. The powerful vibes seep through the music, stretches beyond the lyrics and touches every person that listens to it. Inspiring lyrics and phenomenal musical writing, this album is so intense it makes you want to listen to it non-stop. Creativity is definitely not a flaw for this band.
Nutshell Review
A remarkable album with unbelievable harmonies and powerful vocals from beginning to end