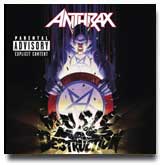 Anthrax Caught Live at the Metro on DVD "Music of Mass Destruction" (Sanctuary, BMG, World Wide Noize, Third Wave) April 20, 2004 Anthrax released "Music of Mass Destruction," their live DVD featuring film from their celebrated sold-out performance at the Metro in Chicago on December 5, 2003. They put on a memorable performance that night, some calling it their best show ever.

"In every band's career they have that one show that stands out from the rest...be it Shea Stadium, Budokan, Madison Square Garden or Red Rocks, some performances transcend the realms of the live concert experience," explains Mark Morton, president of Chipster Entertainment. "For Anthrax, their show at a sold out Metro in Chicago on Friday, December 5th 2003 will forever stand as the show to define the band's legendary career. And we got it all on tape!"

I was one of the lucky fans at the performance. I hadn't seen Anthrax since 1998 when they promoted their last album "The Threat is Real," so I was really psyched up. The rest of the fans were, too. Chicago has always been known for its numerous, enthusiastic Anthrax fans. I felt like part of a big, Anthrax-loving family that night. The band was noticeably moved by the audience's passion. We shouted the words to songs, yelled at the top of our lungs when prompted by Vocalist John Bush, and chanted Anthrax! Anthrax! between sets.

"I have never felt so much LOVE at a show," says Drummer Charlie Benante. "In the history of this band, this show is THE ONE...you had to be there to experience it."

If you missed the show don't worry, watching "Music of Mass Destruction" is just as cool. It's like being at the show only better. You can see the guys close up, and from many angles. You get behind the scenes footage. The sound is great, too, recorded in 5:1 Dolby Surround Sound. It also comes with an audio CD.

"Music of Mass Destruction" includes performances of What Doesn't Die, Got the Time, Caught in a Mosh, Safe Home, Room for One More, Antisocial, Nobody Knows Anything, Belly of the Beast, Inside Out, Refuse to Be Denied, 604, I Am the Law, Only, Be All End All, Indians and Bring the Noise. Two bonus cuts follow, Fueled and Metal Thrashing Mad, are in Hyper-Angle. Hyper-Angle is five frames of video on one screen. Four small frames give unedited views from four camera angles, and one large frame shows the four camera angles edited together. It's fun to watch because you can move your eyes from one camera to another at your discretion and not the editor's.

The DVD includes a great interview with comic book artist Alex Ross, creator of the cover art for both "Music of Mass Destruction" and "We've Come for You All." Charlie Benante talks with Ross in his studio as he works on the super hero drawing on "Music of Mass Destruction." Benante and Ross talk about music, art, super hero movies and comic book characters. Then they take a break and tour Ross's massive collection of super hero costumes and figurines. Check out the promo for "Music of Mass Destruction" at Anthrax.com and catch pieces of Caught in a Mosh and Antisocial. Then go out and buy the DVD. But as Anthrax tells us, "please don't burn copies of this and sell them. Please don't download music for free. That's like if I walked into your house and helped myself to your stuff. And don't you hate lending shit to your friends anyway because it always comes back busted? Let your lazy ass deadbeat friends buy their own copy." Well said.

Anthrax recently completed work on their upcoming CD Metallum Maximus Aeturnus. The band re-recorded classic Anthrax songs live in their studio that were originally performed by past line-ups from 1984-1990. Songs were chosen by fans that voted online at Anthrax.com.

Join UnRated Discussion where you can post your review or thoughts.

---

RELATED LINKS:
Anthrax Official Web Site
Label Site: Sanctuary Records

April 20, 2004 - CD/DVD Review - Music of Mass Destruction
December 5, 2003 Review - Anthrax Came For You Chicago
June 28, 2003 - Anthrax Announces Tour
June 6, 2003 - ANTHRAX Films Video for "Safe Home", Features Cameo by Keanu Reeves
May 16, 2003 Review - Motorhead / Anthrax at the House of Blues
March 5, 2003 - ANTHRAX Releases 'WE'VE COME FOR YOU ALL'