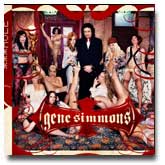 Sanctuary Records (June 8, 2004)
Starting Fires and Still Spitting Them Out
So you think you know Gene Simmons, eh? After co-founding Kiss some 30 years ago and leading the band to being the reigning kings of gold record earnings – one might think they've seen all that Gene Simmons is capable of. You've got the albums, the toys, the t-shirts, maybe even have a Kiss casket laying around keeping your beer ice cold. Well, I'm here to tell you as far as Gene Simmons' creative ability goes - you ain't seen nothing yet!
For each Kiss album that there is, there's an entire cache of material that never made it past the demo stage and went unheard by the masses. Now, with Simmons release of Asshole, his second solo album, we get to hear some of those songs, but this album has got several other surprises as well.
Each of the 13 songs on this disc sound different from one another and most of which explore all new musical terrain for Simmons - proving that you really can teach a black-tongued dog some new tricks. Asshole, brimming over with its diversity, is frankly quite hip.
The best song on the disc also happens to be the first release, a remake of the 1996 hit by The Prodigy, "Firestarter." With Dave Navarro of Jane's Addiction spicing up the guitar parts, Simmons' version of this song is explosive. With a progressive groove and techno-based backbone, this song still rocks. One can almost envision smoke and laser beams shooting out of Simmons from the first note to the last.
The video for "Firestarter" is just as volatile. Lots of gorgeous, scantily clad women of course, along with Simmons walking on water, looking like a gangster, and rocking out.
"Black Tongue," another gem on Asshole, written by Simmons and Frank Zappa. Yes, you read correctly, the late, great Frank Zappa. Utilizing some of Zappa's previously unreleased riffs and vocals Simmons incorporated them into this song, which by the way is quintessentially Gene Simmons in musical form. Zappa's children join Simmons on the backing vocals as well.
Other Asshole highlights include:
"Sweet and Dirty Love" - The original version of this song was penned back in 1977 and was initially called "Jelly Roll." Then it was recorded for the Psycho Circus album but in 2004 Simmons put a new spin on this song. The result is a solid and very likeable rock groove that will get you shaking your butt.
"Weapons of Mass Destruction" – Now who ever expected Simmons to record a song that flirts with almost a slight thrashy feel to it? Inspired by President Bush's constant talk of WMDs just before going into Iraq, and how cliché the term became – only Simmons turns it up a notch to a slightly more evil point of view.
"Waiting For the Morning Light" – The music to this song was written by Simmons and the legendary Bob Dylan. An airy, almost jazzy, ballad.
"Beautiful" – Written by Kitty Gordon's Nina Singh and Mark Addison - Simmons version of this song is light and whimsical.
The title cut, "Asshole" – The original version of this song was written by a band from Norway. Simmons purchased the song and reworked the arrangements and lyrics. "Asshole" is everything you'd expect from its name. Tongue-in-cheek and catchy…just don't play it in front of the little ones if you don't want them singing it in preschool.
"Now That You're Gone" – A somber, jazzy song about the passing of Simmons' father. Written back in 1977 with Bob Kulick, the brother of former Kiss guitarist Bruce Kulick. The backing vocals include Simmons' daughter, Sophie, and her friends that add a refreshing element to the melancholy theme of the song.
"Whatever Turns You On (Turns Me On)" – Funky, fun, and sexy with a kind of street R&B feel.
"Dog" – A raunchy and raw tune that drips of sexuality. Simmons' play on the Little Red Riding Hood banter between the wolf and his prey couldn't have been more perfectly fit than for this song…or done better by anyone but Simmons.
And "1,000 Dreams" – Where Simmons is the crooner weaving fairytale dreams into a song with a country twist. One can imagine Fred and Ginger dancing along to this tender piece.
Over all, Asshole is a divergent array of very likable songs that seem to be free of boundaries…the way rock music should be. And who better to remind us of that than a rock and roll legend like Simmons?
Email writer "Sass" at: sass@rockstarsass.com or visit her online at http://RockStarSass.com
RELATED LINKS:
Gene Simmons Web Site
Kiss Online
Label Site: Sanctuary Records
Official Site for the Zappa Family
Bob Dylan's Official Website