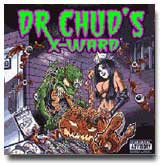 Most know him from his drumwork for the Michale Graves – era Misfits, or the subsequent project he and Michale collaborated on, simply titled, Graves. Now, Chud has set his sticks aside and stepped front-and-center to handle all vocal duties. Most people are itching to know: Can Chud carry a note?

Yes he can.

The simplest way to describe his vocal style is that it works. He's not too flashy, whiney, overdone or undertalented – far from it, in fact. Chud's voice is quite distinct, and it has a tendency to get his songs bouncing around your cranium.

A majority of the album rocks hard. While the album retains Chud's punk roots, it's not far off to consider this a metal album. Misfits fans will certainly notice a few, endearing, structural similarities in some songs, but Chud has clearly injected his own serum into the music. "Heavy Metal," based off the animated cult classic, rocks. It's also possible to find a Graves-era soundcheck version of this song in the MP3 trader jungles. "Spiderbaby" was released on the Internet some time ago for download, but appears on the album with an improved mix. "Mommy Made Love 2 an Alien," is another song that has been previously available. It's also been revamped and reworked, launching with a wild guitar solo and meshing a few new vocal harmonies. "Goodbye," one of the album's slower tunes is a plodding track with tough guitars that would kick anyone's ass in a back-alley fight. However, the most fun track is "Bury You Alive," sure to have all the punks pogoing around their rooms and concert halls.

Chud went all-out on Diagnosis for Death. The album artwork and design is exceptionally well-done and looks better than some of the garbage major labels are passing off as "packaging." Inside the booklet is a full-color comic/lyric spread to "Spiderbaby." Also, using today's multimedia technology, videos for "Powerless" and "Mommy Made Love…" are presented for your B-movie viewing pleasure. Chud also brought a slew of his friends to guest on the record: the Sardonica boys, his Graves bandmates, Tom Logan and Graham Van Der Veen, as well as Goolsby from Blitzkid. The only major problem with the record is that there are only eight songs on it. Is that grounds for malpractice? No, the good Doctor has prescribed a suitable cure for the horror-rock blues.

Join the Discussion where you can post your review or thoughts.

---

RELATED LINKS:
Dr Chud's Ward Web Site