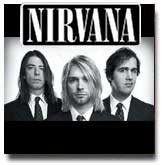 "With the lights out it's less dangerous/ Here we are now, entertain us"
- "Smells Like Teen Spirit", 1991
The music one listens to in high school and college stays with them eternally. More times than not, it is the music that defines who they are throughout their life; the music that moves us, console's us and is what we persistently will tell our children is "superior" to the "crap" they listen to. It is also during this time, where an artist emerges who distinguishes your generation. In the 50's it was Elvis; the 60's it was Stones, Beatles, Hendrix and Morrison; the 70's it was Zeppelin, The Ramones and Springsteen; the 80's was The Clash, The Police and U2; the 90's gave us the flannel wearing gods from the northwest city of Seattle-Pearl Jam and the band that irrefutably defined and revolutionized my g-g-g-generation, louder than a Pete Townsend guitar riff, Nirvana.

---

I started high school in the fall of 1990 and graduated in May of 1994. It's safe to say Nirvana bookmarked my high school existence. On October 12, 1991 while I was at my sophomore year homecoming dance, a mere 12 miles away at the Cabaret Metro, something historical happened, and I'm not talking about the physical consummation of Kurt Cobain's and Courtney Love's relationship. A little known band from Seattle, Nirvana, performed one of the preeminent shows of their career. It would be the stuff of legend if not for a great Chicago radio station, WXRT. They knew they were in the midst of witnessing something historical and rolled tape. To this day, the show is still heard from time to time as the Sunday night concert of the week. Through the magic of bootlegging and tape trading, the world-over has been able to eavesdrop on a band who was about to change the rules of music forever.

After reading a review of the show, I began talking about how badly I wanted the album, "Nevermind". To my great surprise a friend went out and bought it for me, because she could sense it was not something I merely wanted, but something I needed. I have not spoken to that girl for the better part of a decade, but I still remember her for buying me that now infamous CD, before anyone else had it. Over the next few months everyone became infatuated with Nirvana. It was the first time I witnessed a musical revolution right in front of my eyes. Bands with big hair and eye liner immediately disappeared from the landscape and flannel wearing groups appeared everywhere. The search for bootlegs and imports like "Hormoaning" from Japan were the craze. At a winter festival at my high school, the cover band played "Smells Like Teen Spirit" and the empty dance floor suddenly became full with people moshing and body surfing. To this day, the vivid images of that night stand out in my mind as one of the defining live experiences of my life and it was merely a cover band playing the song. The real fascination back then was translating Kurt's lyrics. What did they mean? What was he saying? I even had humorous conversation with a female friend who was convinced Kurt was singing "I'm a skater on a speedo", during "Teen Spirit", no joke; I couldn't make something that good up.

Fast forward two years, I am listening to one of my classmates talking about how Nirvana rocked the Aragon Ballroom the previous weekend playing a new song that was in my classmate's words was "mind blowing". The song was "You Know You're Right", the lone new studio track to be released after Kurt's death. The song's only live airing was that night at the Aragon. A little less than six months later, in April of 1994, I was on my spring break when I received word that a fellow classmate had died in a sudden and tragic spring break accident. I was not close to him, but had friends that were. That week was filled with reflection, grief, sadness and sorrow. Then on Friday April 8th, I was driving home from my part time job when the news came on the car radio - Kurt Cobain's body had been found from an inflicted gun shot wound to the head. I was stunned. I'm not going to pretend that I worshipped Cobain or related to Nirvana's music more than other artists but I did feel grief and sorrow. I will never forget that week because I took a deep look at my life and what it all meant. I looked upon it with new meaning. Life is short; we need to live each day to the fullest, carpe diem. While a classmate of mine was called to the other side by conditions out of his control, Kurt obviously felt so much anguish that not even a baby daughter could ease his pain. Cobain's death, believed in many circles, was the day rock n' roll died. A decade has passed and there has yet to be an artist who has even remotely had the same impact. Eminem may come close, but there has not been a rocker to have the same effect. Creed, Linkin Park, Korn, Marilyn Manson and dozens of others have left their imprint, but none have changed the course of modern music like Nirvana.

I'm so happy cause today
I've found my friends
They're in my head
I'm so ugly, but that's okay, cause so are you
-Lithium, 1991


Fast forward a decade after Kurt's death and we have a new Nirvana box set "With The Lights Out". The four disc (3 CD and 1 DVD) collection actually has more music on it that all of Nirvana's proper albums combined. Nirvana only released three proper albums; "Bleach", "Nevermind" and "In Utero". The rest were b-side compilations and live albums. However, their legacy has only grown in the decade since Cobain's death. This box set was initially set to be released back in 2001 to commemorate the tenth anniversary of "Nevermind", but a lawsuit between Courtney Love and Nirvana's surviving members, Krist Novoselic and Dave Grohl, kept it waiting in limbo, until now. Unlike other box sets, virtually the entire box has material that has been unheard, except in raw bootleg form. To give you a sense of how unrefined the sound on this box is, it's safe to say that Robert Johnson's acetates or The Beatles "Anthology" series are revolution's in sound dynamics compared to "With The Lights Out". Why does it sound this way? It's simple, if you think about it, "Nevermind" was released on September 24, 1991 and Cobain died the first week of April 1994. That is a brief thirty month period. Most box sets are culled from band archives which stagger well over ten, fifteen and twenty years of recordings. Not only that, but Nirvana was in their infancy and since Kurt was not one to commission video crews to shoot their shows professionally, most of what we know about him, and the band, can be defined as legendary. You see, now days the term 'legendary' is a word that has no meaning. Think about rock acts today; almost every show is recorded in some fashion. Some artists even offer these shows online for download. Legends grow from word of mouth. It's like the ancient Native American's who passed their stories from generation to generation by oral traditions. Since there is so little official footage of Nirvana, they are a band with more legendary status than even their Seattle hero, Jimmy Hendrix.

When this box set was culled, mostly crude home tapes and demos supplied the source material. However, as one will found out, it's not the sound dynamics that make a box set, but the potency of the material on it. I'm happy to say that Nirvana fans have a reason to rejoice. What they will hold in their hands is nothing short of extraordinary as it covers Nirvana's entire brief seven year career. Over three and a half hours of audio is included and over sixty minutes of a visual history is included on the DVD. Due to the minimal resources available, the producers have wisely culled the A grade material and have not excluded it for quality reasons. Some of the acoustic home demos are beyond evocative. While numerous artists have had demos leak to the underground, none have ever depicted a man so haunted by his own inner demons.

To date, there is one truly magnificent piece of Nirvana history that has been published or created; "Heavier Than Heaven" by Charles R. Cross. For the extensive and incredibly well researched book, Cross was granted unprecedented access to Kurt's notebooks where he composed the thoughts running on the inside of his head. Even the actual release of Kurt's notebooks a year later did not go into the detail which Cross' book does. However, we now have "With The Lights Out", a far superior glance to the inner workings of Kurt Cobain. Instead of reading what was going through his head, we can hear his birth, growth and demise. The bleak acoustic home demos are eerily tranquil, yet the thoughts being expunged and flowing off of Kurt's tongue are enduring. From the distorted opening notes of Led Zeppelin's "Heartbreaker" from 1987 to the last scene of the DVD credits, showing Kurt goofing around on the drums, this box set is a piece of rock n' roll history, raw and real. The box is largely chronological and documents Cobain's growth as a songwriter over the three discs. The young writer is showcased on disc one, a man coming into his own is discovered on disc two and a man breaking at the seams is documented on disc three.

Disc one runs us through an assortment of crude rehearsals and demos from the earliest stages of Nirvana spanning 1987-1989. Surprisingly "Heartbreaker" sounds like a band ready to take over the world; even in their early stages they show promise. The inexperienced and raucous band slowly matures, as does Cobain which leads us to his home demos for "Polly" and "About A Girl". You can literally hear Cobain coming into his own as a songwriter over the course of the box, especially on this disc. The indie-underground rock is slowly budding into mature songwriting that even Cobain, at the time, was not sure fit in with where he felt he should be going. The disc ends with an early version of "Polly" recorded in late 1989 by the band. However, since Cobain felt it was too poppy, it sat around for another two years before finally being released on "Nevermind".

Disc two covers 1990-1992, the watershed years of Nirvana's existence. Not only do we hear the band rise to commercial heights, but the birth of Nirvana as we came to know it, with Dave Grohl on drums. A trio of songs from KAOS open the disc which has Kurt showcasing an early version of "Lithium". There are even sessions with Butch Vig from Madison, WI which began plating the seeds for what became "Nevermind". Butch's versions are more true to the Nirvana sound than the released mix of many of these songs that wound up on "Nevermind", which was eventually mixed by Andy Wallace giving it a more slick sound. The early versions of "Drain You" and "Smells Like Teen Spirit" are revelations as we get to sneak behind the curtain and witness the birth of these now classic tracks. The original rehearsal demo of "Teen Spirit" is not fully realized, but it's stunning nonetheless. It's the track that single handedly changed music back in late 1991. The disc ends with Butch Vig's mix of "Teen Spirit" which is louder and heavier on bass and drums compared to the now legendary version from "Nevermind". I have a feeling the song would have had the same impact regardless of which mix was released, but nevertheless, this is the first time this mix is available.

Disc three is the beginning of the end, as we are treated to material written and recorded over the last two years of Cobain's life. What was truly going through Cobain's head at the time of his death is something no one will ever know, but this disc gives us a brief look into what was racing across his mind. The more success the band enjoyed, the deeper into darkness Cobain went. The stand out track of the entire box comes on this disc, track two, "Rape Me" recorded in October of 1992 in Seattle. It begins with the sounds of Kurt's daughter, Frances, crying before Kurt's electric guitar comes in singing "Rape Me, rape me my friend..." Why was his daughter in the studio? Why would he record her cry over the opening of the track? Only he knows, but what we are left with is the beginning of the end for someone who saw darkness all around him. This version of "Rape Me" is the eeriest track on this box set. Nothing chills you or gives you goose bumps more than this track. This was the song Nirvana originally wanted to perform at the MTV Video Awards in 1992 when MTV executives would not even consider it. Well, Kurt got his way buy teasing the audience with a little snippet of the song before launching into "Lithium".

The remainder of disc three goes between nearly finished tracks with the band and home demos. Three of the last four tracks were recorded mere months before Kurt's death. It is these songs that give us the greatest insight as to where he was going musically at the time of his death. A great cover of "Jesus Doesn't Want Me For A Sunbeam" is from one of the band's last recording sessions and shows the band having fun doing what they love most, playing music. Besides an undated acoustic demo for "All Apologies", an unheard acoustic demo of "You Know You're Right" exemplifies Cobain and his state of mind. While his lyrics are tough to hear, the studio take consists of lyrics like "Never speak a word again, I will crawl away for good" can barely be heard but the discreet pain heard within his voice is like a soul screaming to be heard beneath the addiction and pain he felt. Ironically, no other versions of this song have been included on the box set. At the time of the band's "Greatest Hits" release, simply titled "Nirvana" from 2002, there were rumors that a vastly superior mix of the song existed. This was confirmed by biographer Charles R. Cross whom I met in 2001. He told me that version he heard blew his mind and that he hoped they would not touch it. It's a shame the different mix is not here. However an utterly peculiar song like "Beans", showcasing Kurt doing his best impersonation of Alvin The Chipmunk, made it.

The fourth and final disc is a visual aid to the box and what a DVD it is. The first thing on the DVD is home video footage of a house gig the band played at Krist Novoselic's mother's house from 1988. The camera spends most of its time on Krist as Cobain shies away from the camera simply singing to the wall with his back to the camera. Even in this early footage he is not comfortable posing for anything or anyone. The revelation of this 1988 video is Zeppelin's "Immigrant Song". It goes to show that if Kurt did not become the voice of his generation he and Krist stood a good chance of becoming a definitive Zeppelin tribute band. You can barely make out Kurt's vocals, but the riffs and rawness of the band's energy is there. Up next is an in-store appearance by the band at Rhino Records in 1989 performing "Big Cheese" with a second guitar player. The very rare "In Bloom" Sub Pop video is also included and illustrates the band on tour during their first tour supporting "Bleach" in 1989. There is even some home video footage of the band on the road during this tour, showing Kurt's hair at its longest-all the way down his back. The rarities continue with Dave Grohl's first gig as drummer in October of 1990. During this performance is becomes evident that this is when the band gelled. Up to this point Nirvana had more drummers than Spinal Tap and from this video, it's apparent they had found the missing link. The first ever performance of "Smells Like Teen Spirit" from April of 1991 in Seattle is also included. The crowd loves it and is moshing back and forth. Most surprisingly, is how rich and far-reaching "Teen Spirit" sounds in its infantile state. Fast forward six months, gone are the shabby clubs. The band is headlining the Paramount Theater on Halloween and a professional film crew is on hand for "Jesus Doesn't Want Me For A Sunbeam", which showcases a band on the rise. Dave Grohl is a god-given gift on the drums as his arms and hair are flying everywhere. I only hope this entire show comes out one day on DVD complete and part of the Nirvana archive series. The final track on the DVD is footage of the band in a studio in Rio, early 1993, where the band switched instruments; Cobain on drums, Novoselic on guitar and Grohl on bass as they run through a cover of "Seasons In The Sun", once again showcasing the love and affinity they have for music, which for Kurt's all too brief life, was his only salvation.

Come, as you are, as you were, as I want you to be
-Come As You Are, 1991

The chronological sequencing of this box gives the listener a sense of a seven year journey from house parties to small clubs to recording studios to live performances across the globe to Cobain's bedroom where intimate thoughts were shared between Kurt, guitar and tape recorder. I wish there was more input from Courtney Love, Krist Novoselic and Dave Grohl on this box. Comments as to why certain songs were recorded would be nice and give us more information into the Nirvana legacy, but I'm sure they want us to continue to ponder and not lose the mystique behind their legacy. Therefore, when listening to this box set, we are forced to listen without prejudice. While a significant amount of this material is already available on the bootleg market, none of it sounds as good as it does on this box set. In fact, almost everything sounds better than it should.

If we are fortunate, we find artists who are gifted and choose to share their art with us. If we are really lucky, it touches us. "With The Lights Out", is more than a souvenir but a final testimonial to who Kurt Cobain, Dave Grohl and Kurt Novoselic were as a band. They will never release a song ever again, and that is heartrending, but this box set cements their legacy and showcases just how Nirvana changed the world forever. Things were never quite the same after the mainstream went to them. Then again, one can only wonder, what would life be like today with Kurt still making music? Would boy bands have existed? Would pop music be as soulless as it is today? It's tough to tell. "With The Lights Out" is a document of a brilliant and ingenious musician who will forever have his image plastered on dorm wall rooms. Nirvana will forever be a band that stayed true to themselves and their audience. They came as they were and exactly who they wanted to be.
---
With The Lights Out" track list
CD 1
01. Heartbreaker (1987)
02. Anorexorcist (1987)
03. White Lace and Strange (1987)
04. Help Me, I'm Hungry (1987)
05. Mrs. Butterworth (1988)
06. If You Must (1988)
07. Pen Cap Chew (1988)
08. Downer (1988)
09. Floyd The Barber (1988)
10. Raunchola (1988)
11. Moby Dick (1988)
12. Beans (undated)
13. Don't Want It All (undated)
14. Clean Up Before She Comes (undated)
15. Polly (solo - 1988)
16. About A Girl (1988)
17. Blandest (1988)
18. Dive (1988)
19. They Hung Him On A Cross
(Leadbelly cover - 1989)
20. Grey Goose (Leadbelly cover - 1989)
21. Ain't It A Shame (Leadbelly cover - 1989)
22. Token Eastern Song (1989)
23. Even In His Youth (1989)
24. Polly (1989)


CD 2
01. Opinion (1990)
02. Lithium (1990)
03. Been A Son (1990)
04. Sliver (1990)
05. Where Did You Sleep Last Night (1989)
06. Pay To Play (1989)
07. Here She Comes Now (1990)
08. Drain You (1990)
09. Aneurysm (1990)
10. Smells Like Teen Spirit (demo - 1991)
11. Breed (1991)
12. Verse Chorus Verse (1991)
13. Old Age (1991)
14. Endless, Nameless (1991)
15. Dumb (1991)
16. D-7 (Wipers cover - 1990)
17. Oh, The Guilt (1992)
18. Curmudgeon (1992)
19. Return of the Rat (Wipers cover - 1992)
20. Smells Like Teen Spirit (Butch Vig Mix - 1991)

CD 3
01. Rape Me (solo acoustic - 1992)
02. Rape Me (electric - 1992)
03. Scentless Apprentice (1992)
04. Heart Shaped Box (1993)
05. I Hate Myself and Want to Die (1993)
06. Milk It (1993)
07. Moist Vagina (1993)
08. Gallons of Rubbing Alcohol Flow
Through The Strip (1993)
09. The Other Improv (1993)
10. Serve The Servants (1993)
11. Very Ape (1993)
12. Pennyroyal Tea (1993)
13. Marigold (1993)
14. Sappy (1993)
15. Jesus Doesn't Want Me For a Sunbeam (1994)
16. Do Re Mi (1994)
17. You Know You're Right (1994)
18. All Apologies (undated)


DVD
01. Love Buzz (house party - 1988)
02. Scoff (house party - 1988)
03. About A Girl (house party - 1988)
04. Big Long Now (house party - 1988)
05. Immigrant Song (house party - 1988)
06. Spank Thru (house party - 1988)
07. Hairspray Queen (house party - 1988)
08. School (house party - 1988)
09. Mr. Moustache (house party - 1988)
10. Big Cheese (1989)
11. In Bloom (1989)
12. Sappy (1990)
13. School (1990)
14. Love Buzz (1990)
15. Pennyroyal Tea (1991)
16. Smells like Teen Spirit (1991)
17. Territorial Pissings (1991)
18. Jesus Doesn't Want Me For A Sunbeam (1991)
19. Talk To Me (1992)
20. Seasons In The Sun (1993)

Join UnRated Discussion where you can post your review or thoughts.

---

RELATED LINKS:
Nirvana: With The Lights Out