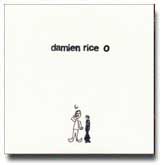 In 2002, Damien Rice, after leaving the loud rock band Juniper, worked on his solo album. The debut, entitled O, won him critical and commercial praises in his native Ireland and later in the rest of Europe.

By 2003, O was silently released in America but made a loud statement by bagging the highly coveted Shortlist Award (award given to emerging and underground artists), with Coldplay singer Chris Martin, Tom Waits, Dave Matthews, Erykah Badu, and Musiq as judges who picked him as the winner.

So what does O mean? O can be the bubble of unfulfilled childhood wishes. In the track "Amie," Damien regretfully looks back at his loved ones hopelessly stuck in a poverty-stricken hometown, and cries:

Amie, come sit on my wall
And read me the story of O
And tell it like you still believe
That the end of the century
Brings a change for you and me.

O, being home-recorded is a very personal and intimate album. So personal and intimate that Damien may be embarrassed to talk about the issues and concerns of the songs in the record. The collection also includes artworks created by Damien himself. O can also be the vacuum that can only be filled by a love interest. With Vyvienne Long's dolorous yet sonorous cello arrangement, Damien laments on unrequited love in "The Blower's Daughter":

And so it is
The shorter story
No love, no glory
No hero in her sky.

Yet in the song's chorus he reveals his true feelings of obsession, by repeating "I can't take my eyes off you" again and again, and hitting a sour note that cradles us to loneliness and heartbreak.

O can also be the "Cannonball" of falling in love. The song employs guitar alchemy of similar nature to a real cannonball's projectile motion as the Irish singer explains:

Stones taught me to fly
Love taught me to lie
Life taught me to die So it's not hard to fall
When you float like a cannonball.

Other fanciful and adventurous musical additions in the album are the clinking glasses in "Cheers Darlin'," the playing children in "Older Chests," the pouring rain in "Cold Water," the culminating opera in "Eskimo" and co-vocalist Lisa Hannigan's singing magic in "I Remember," "Volcano" and an untitled secret track that goes by the tune of "Silent Night."

So what does O really mean? O is simply a perfect circle that represents emptiness (the void in the middle) and the never-ending search for meaning of life and love (the circle itself).

Both inventive and affective, O is a magnificent album that contiguously grabs, then haunts every listener with its lasting intimacy and melancholy. It compellingly pushes the boundaries of music in different directions, making it a must in every collection.

Join UnRated Discussion where you can post your review or thoughts.

---

RELATED LINKS:
DamienRice.com