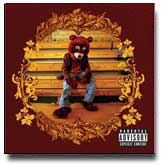 Honorable Dismissal

Kanye West, the producer behind Alicia Keys' "You Don't Know My Name," Ludacris' "Stand Up" and Jay-Z's "03 Bonnie & Clyde," has crossed over and becomes the latest producer-turned-popstar with his album The College Dropout. West has been tagged as the new hip-hop phenomenon with two songs ("Through the Wire" and "Slow Jamz," both from the said album) emerging in the top 10 of Billboard Magazine's singles chart early 2004. As a concept album, The College Dropout criticizes the educational system for being ineffective and unsupportive of everyman's aspirations. Getting a good education doesn't guarantee anyone a better life-"She has no idea what she doin in college / That major that she major in don't make no money," West explains in "All Falls Down." And after the grueling years in college, West elaborates in "Spaceship" that without kissing enough asses, one will be working hopelessly underpaid:

"I've been working in strange shifts
And I ain't made shit
I wish I could buy me a spaceship
And fly...
Pass the sky."

If his words are somewhat anti-school, West's music is a new school in beatmaking-doing less with synthesizers and using more of samples for his hooks. "Through the Wire" is driven by Chaka Khan's "Through the Fire," "Slow Jamz" (with actor Jamie Foxx singing the chorus) utilizes Luther Vandross' "A House is Not a Home" and "We Don't Care" goes heavy with Gino Vanelli's "I Just Wanna Stop." In "The New Workout Plan," West even wreathes sweeping strings with hip-hop measures.

"Jesus Walks," the strongest track of the album, is the testimonial of the potency of a producer-turned-popstar. With African beats and gospel hymns in the background, West exposes the disgusting business behind popular music:

"They said you can rap anything except for Jesus
That means guns, sex, lies, videotape
But if I talk about God my record won't get played."

But the real point of West's debut is to remind us of the forgotten essence, the forgotten glory, and the forgotten legacy of education. The great philologist Friedrich Nietzsche once said, "Blessed are the forgetful: for they get the better even of their blunders." But really, have we got the better out of this? In these hard times, only the popular, the beautiful, the well-connected, the drug pushers, and the already rich themselves have the chance to lead a good life. Gone were the days where one has to be smart, talented or skilled to attain everyman's aspirations.

The College Dropout, for its social relevance, proves that rap music has the potential to bring forth important issues, rather than the usual subjects of debauchery, murder, thug life, and all the bling-blings. With Kanye West's clever rhymes and rhythms, the album is hip-hop's cream of the crop for 2004.

Join UnRated Discussion where you can post your review or thoughts.

---

RELATED LINKS:
Kanye West Roc-A-Fella Records