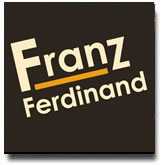 After more than a decade of nonappearance in the music scene, an art school band from Scotland called Franz Ferdinand surfaces with its self-titled debut and creates a wide impact with its own unique danceable post-punk music. Franz Ferdinand is composed of Alex Kapranos on vocals and guitars, Bob Hardy on bass, Nick McCarthy on guitars and Paul Thomson on drums.

Named after the Austro-Hungarian archduke whose assassination sparked World War I, Franz Ferdinand proclaims that it only intends to make music that girls can dance to. But listening to the debut album tells us another story: The band is too smart for that.

Perhaps Franz Ferdinand is the band equivalent of an intelligent kid who smokes with the bullies and plays dumb just to fit in. But who could blame them? The music scene at present is filled with insipid pop idols, nu metal misfits, gangster rappers with all the bling blings, pre-packaged punks and goth wannabes that claim to be geniuses to the point that the mere idea of it is already, uhmm, laughable.

But the Glaswegian quartet's first outing is not a laughing matter, but instead, a dancing one. Anyone, in fact anything, with legs will be thrilled to dance along. The carrier single "Darts of Pleasure" romps with surreal guitar riffs juxtaposed with brisk drum clatters as Kaprano croons in a romantic fashion:

You can feel my lips undress your eyes
undress your eyes undress your eyes
Skin can feel my lips they tingle
tense anticipation

"Take Me Out," the follow-up single, exhibits Hardy's impressionistic bass work with the unexpected tempo shifts, as the song's main character laments on not hitting it off with a potential love interest:

If I move this could die
If eyes move this could die
I want you to take me out
I know I won't be leaving here
With you.

Other fascinatingly danceable tracks are "Cheating on You," "Tell Her Tonight," "Come on Home," "This Fire," "Auf Achse," "40'" "The Dark of the Matinee" and "Jacqueline."

"Michael" is where Kapranos explores sexual roles (similar to Morissey's in the 80s) as the love song comes out to be about a man:

Michael you're the boy with all the leather hips
Sticky hair. Sticky lips. Stubble on my sticky hips.
Beautiful boys on a beautiful dance-floor
Michael you're dancing like a beautiful dance whore.

Courageous, inventive, idiosyncratic, intriguing and original. Franz Ferdinand's debut is like Andy Warhol doing the gallery scene again. It is too beautiful to be called strange and too clever to be called dumb.