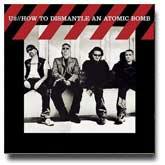 Review by Trent McMartin May 1, 2005

"How to Dismantle An Atomic Bomb" is a continuaton of 2000's "All That You Can't Leave Behind". U2 is in a phase of playing it safe, stripping it down to the roots and playing to their strengths. That's not a bad thing and some people have praised it and some have been less than kind. Some will say this album may not be essential U2 and the band is back peddling a bit trying to recapture the past somewhat but who cares.

This is lyrically U2's most mature record with the normal themes of love, faith, and death here but there is a story behind every song. Not a weak song in the bunch even one titled Yahweh makes the cut. It also contains one of their best songs ever in City of Blinding Lights.

But something is missing. Gone is the experimentation of Achtung Baby, Zooropa and Pop. Even though Pop and the over the top tour was misguided it was still a band willing to take chances. Overall, How to Dismantle An Atomic Bomb is a solid record but loses points with its lack of innovation and experimentation. *** out of 4 stars. Maybe ***1/2 out of four when I hear the songs live.

Strong Songs: Miracle Drug, City of Blinding Lights, Sometimes you Can't Make it On Your Own.
Vertigo
Miracle Drug
Sometimes You Can't Make it On Your Own
Love and Peace or else
City of Blinding Lights
All Because of You
Man and a Woman
Crumbs From Your Table
One Step Closer
Original of the Species
Yahweh
Fast Cars (Only on UK version)
---
Review by Anthony Kuzminski May 4, 2005

A Insightful Album Review

"Give me something I can feel"
-"Vertigo"


I've been listening to the new U2 album, "How To Dismantle An Atomic Bomb", for six months so one may ask "why write about it now?". Well, analyzing a new album by any of your favorite artists is a double edge sword. As fans we tend to over praise certain aspects of it and in many cases, under appreciate more challenging numbers. However, time allows you more perspective with a clearer thought process. Each U2 album has had its own distinctive voice and, like a Beatles album, stands on its own two legs for better or worse. What makes "How To Dismantle An Atomic Bomb" unique is where it stands among the U2 cannon. Most U2 albums are divided into two camps; the first being albums that are 'classics' or ones where they struck new ground ("Boy"", "War", "The Joshua Tree", "Achtung Baby", "All That You Can't Leave Behind") and the second camp belongs to the bands more 'experimental' albums ("October", "Rattle & Hum", "Zooropa", "Passengers" and "Pop"). If you look at this list, one album is missing; 1984's "The Unforgettable Fire". This was the album the band struck valiant innovative ground with the production team of Brian Eno and Daniel Lanois. While the songs were empathetic and from the heart, the album was dragged down by songs like "Wire", "Promenade", "4th of July" and "Indian Summer Sky". However, the album also boasted the most elegiac material of the band to date - "Pride", "Bad", "MLK" and "A Sort of Homecoming", but once again, these songs truly did not come alive until the band took to the concert stage- this is where these songs became classics. While "The Unforgettable Fire" is not the band's paramount album; it's one of my favorites to listen to. It's has a consoling resonance and takes me to another place and time. It's one of those albums that are far from faultless, but you adore every second of it because it transcends something in your heart and mind. "How To Dismantle An Atomic Bomb" reminds me a lot of "The Unforgettable Fire", where the band was at a crossroads in between two ground breaking albums. On both "Bomb" and "Fire" the band were shooting for the stars and even though they came up a little short that shortness can still define greatness.

The album's first single, "Vertigo" is unlike anything else on the record; however, it relentlessly rocks out heavier than anything the band has done since "The Fly". "Vertigo" is once again a song that defines a moment in time for U2. From here on out, one defining theme (from a four lettered word) emerges from the album, L-O-V-E. Whether it's love for a city, a woman or just unconditional love, it hovers over everything on the album.

"Miracle Drug" is an innate and weighty story of a mother who believed her disabled son could hear her. The love she gives him is unheralded as later in life when an invention allows him to write, he becomes an award winning writer. Bono's lyrics are ten times more profound than anything I can muster out of my pen, but it's the focused and straight forward playing of The Edge's guitar, Larry and Adam's sturdy beat and Bono's lyrics of "I was a stranger/You took me in" that showcase the unreserved love of a mother in a situation in which she defied the odds and rose above.

"Love & Peace or Else" is ambitious in its undertakings with a mammoth thundering sound and theme…it's a crude song elevated to pristine heights with the help of Brian Eno, Daniel Lanois, Chris Thomas, Jacknife Lee and Flood as these five producers delivered the appropriate sonic elements that shake your speakers with reverberation.

"City of Blinding Lights" will be the one song that people will want to see live decades from now. I can see the strobe lights and 20,000 arms waving in the air for this one. Inspired by the band's return to New York City a mere month after 9/11, this is one of the best tracks on the album.

"One Step Closer" is being overlooked by many now but I believe it will be viewed in retrospect as a terrific song much like "So Cruel" from "Achtung Baby" or "The First Time" from Zooropa, the tranquil tone of the song is underappreciated and misunderstood.

"Man & Woman" may arguably be the worse song U2 has ever committed to record. It just does not work in any form or fashion. When I challenge fans and ask them to name me a song they deem worse than this one, the best they can come up with is a remix or a b-side. I stand by my statement.

"Fast Cars" is a bonus track on the deluxe and international editions of the disc, recorded the final day of recording for the album. It has some of the catchiest lyrics and beats as you'll find yourself slapping your legs as you crank it. Go figure, two-plus years of recording and one of the best tracks they record is done at the last minute.

"Original Of The Species" is now taking on elements no one imagined, in concert, as the song was inspired by the Edge's daughter. It's about reaching your maximum potential and not leaving anything behind in the process.

"Yahweh" is another uplifting number that ends the album. It's a prayer, like "Walk On" or "One" this one sends shivers up my spine every time I hear it. It's about the fear of the unknown and speaking to God in the hopes he or she will hear you. It could have become a big bombastic anthem however, restrained and given a lofty elegance with a spot on rendition not understated and not overdone.

This brings us to the paramount track of the album, "Sometimes You Can't Make It On Your Own". Here is where the album's soul lies. Bono wrote it for his father a number of years back, but the band had issues with committing the song to tape. However, with the help of Steve Lilywhite and veteran producers Brian Eno and Daniel Lanois, the band finally nailed the song. The first time I heard it I knew it was one of the most weighty and concentrated lyrics in Bono's songbook. Why? It came from deep inside him and he expunged it onto record.

Bono often talks about how his father never told him he loved him, and that is why he goes out every night needing the love and acceptance of 20,000 people. However, maybe his father was not good with words, but the values he instilled in his son may change the world. His father appeared in the video for "One" and often traveled with the band. Most notably Bono mentions his father on one of my favorite bootlegs, "Shalom" from Tel Aviv, Israel from September '97. Bono speaks of his father during the Israel show and how he was there with him, in more than just a physical manner. Sometimes, as humans, we find it thorny to articulate our emotions, and many times our actions are equally important. Bono's father was a part of his life and that's more vital the any words spoken between the two. Bob Hewson may not have been good with words, but deep down, I can sense he loved his son and somehow, he implanted values in his son that are being felt throughout the world. "Sometimes You Can't Make It On Your Own" is now and forever one of the defining musical moments of my life and it's not just for the music production and the lyrics. Why is this? Please allow me a sidebar here please.

Listen to me now
I need to let you know
You don't have to go it alone
-"Sometimes You Can't Make It On Your Own"

In 1987, I fell in love. I fell so deeply that this love would help guide me the rest of my life. The muse I fell for was music. Huey Lewis, Bon Jovi, Joan Jett, Motley Crue, REM and U2 led the way. I listened to the Top-40 every week and saw the meteoric rise of "I Still Haven't Found What I'm Looking For" and "With Or Without You" to the number 1 position on the Billboard charts. However, it was not until August, my 11th birthday, that I received "The Joshua Tree". My Aunt Mary Irene Dernbach bought it for me. Now, in order for you to understand the significance of this event, I need to give you some background information. Aunt Mary was my mother's older sister. Incredibly vivid and intelligent, she found her calling in life by being a teacher and a nun (yes, one of the full habit Catholic ones). To this day, I still meet numerous people who were taught and overwhelmingly influenced by her. She eventually left the order when she felt the need for a higher calling to work with children at Children's Memorial Hospital in Chicago. While she never had children of her own, she treated her nieces and nephews like gold, including me. There was nothing she would not do for us. Even more profound was whenever she spent time with us, she educated us with life lessons, critical and essential the survival of having an open mind. Most importantly, she was the most selfless individual I have ever known in my life. Whenever I spent time with her, she was concerned about what was going on in my life and where my interests lied. When I was into Star Wars she would take me hunting for the oddball character I needed to complete my collection. When I was into baseball she took me to baseball games. My sister loved dolls, well, she signed her up for a bride doll collection she still cherishes till this day.

For my 11th birthday, even though I did not ask for it, she bought me "The Joshua Tree". Why? Well, for one she knew I loved rock 'n roll and secondly, she was Irish and proud of it. The next time I went to her house, I noticed she had a copy of the album as well. In the coming months, I found the deep rhythms of "The Joshua Tree" soothing and the opposite of the hair bands I was listening to at the time. While my mother was a little terrified of the music I was listening to, my Aunt encouraged it, because she could see this was more than just a fad for me. The following Christmas she gave me my first Ozzy Osborne and Bruce Springsteen albums along with U2's "The Unforgettable Fire". Over the next few years, the albums would increase..."Under A Blood Red Sky", Springsteen's Live album, "Boy", "War" and anything else I was interested in, she supplied. She always spoke of taking me to a concert. Unfortunately, in 1989, after a decade in remission, cancer returned to her body and she was never quite up to being able to see a show with me. She finally lost that battle in November 1993, but she still lives within me every time I listen to "The Joshua Tree".

Recently an even more profound experience took place. I was watching Vh-1 when the new Phil Joanou directed U2 video came on for "Sometimes You Can't Make It On Your Own". The video begins with written words at the bottom of the screen in which Bono writes about his father and he ends it with the phrase "I wish I had known him better". The song begins with Bono in a "Boxer" look singing the song a capella. Something about the stark black and white image, culled with the profound lyrics "Tough, you think you got the stuff" moved me so intensely that for the first time in my life, a music video brought tears to my eyes. The second verse was sung with Bono lying on his childhood bed slowly building until Bono appears with his other band mates and the white background, they are performing in front of, rises to reveal an opera house. Phil Joanou should pat himself on the back as he's made a video clip up there with Johnny Cash's "Hurt" and arguably one of the most profound pieces of film I have ever laid eyes on. Even if he never makes another movie again, he should be proud of the fact he has created something that goes beyond a music video, but a piece of overwhelmingly poignant art. The line "You're the reason the opera's in me" is maybe the best Bono has ever committed to tape. I'm not sure why, but the video immediately reminded me of my Aunt. Bono has the opera in him because of his father, U2 is in me because of my Aunt. If not for her, I'm sure I would have discovered U2 at some point, but because of her, I was with them right from my inception of music.

Still waiting for the dawn, the sun is coming up
The sun is coming up on the ocean
This love is like a drop in the ocean
-"Yahweh"

It's important to make the best of time with those we love while they are here with us. However, it's equally imperative to take the lessons you learned from them when they depart us. This way they never really die and we carry them with us forever. Every time Bono sings "Sometimes…" his father lives on and every time I play "The Joshua Tree" my Aunt lives on…and when Bono departs this space for a better place, he along with The Edge, Adam and Larry will live on through their music. Now that is love that transcends time. Yahweh.

Album Grade: B+