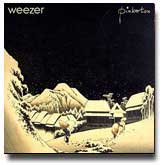 On the radio this week I heard the entire new album from everybody's favourite geek rockers Weezer. After a three year hiatus Weezer returns with their fifth studio album entitled "Make Believe". Though the album is stronger than 2002's Maladroit and 2001's comeback record the Green album, it cannot compare to 1996's Pinkerton.

Pinkerton is the forgotten album only known to diehard fans or lucky listeners who stumbled across it as they downloaded Weezer tunes off one of the many file-sharing sites. Released two years after the career defining blue album, Pinkerton was seen as a major disappointment due to its lack of hit singles. The track "El Scorcho" bombed on the charts causing singer/ songwriter Rivers Cuomo to retire from the spotlight only to remerge in the field of academia at Harvard.

Years after the album died a quiet death, many critics and fans revaluated their previous claims of disappointment and gave the album a second chance. By early 2000, the Internet became a breeding ground for Pinkerton worship. Some even hailing it singer River Cuomos' own version of Pet Sounds comparing his peculiar behaviour and matured lyrical content as that of a young Brian Wilson.

Of Pinkerton, Amazon.com wrote, "Pinkerton saw Rivers Cuomo maturing as a lyricist. From the opening, Tired of Sex, which rants about the frustrating easiness of groupies, to the new wave pop of "Getchoo" to the epic genius of "The Good Life," there's much more diversity here than the Pixies-influenced bouncy grunge of their debut. With the closing solo, the acoustic lament "Butterfly," Cuomo demonstrates a pop mastery that promises great things from this reformed geek".

All Music Guide declared, "From the pounding, primal assault of the opening track, "Tired of Sex," it's clear from the outset that Pinkerton is a different record than the sunny, heavy guitar pop of Weezer's eponymous debut."

Many hardcore fans have proclaimed that Pinkerton was the last great album Weezer made before they headed into a more mainstream direction. "I don't think I'm going to buy the new album, I'm sure it's alright but I'm not a huge fan of that new single (Beverly Hills)", said fan Kris Stanley of Edmonton, Canada. "Nothing they've released has been better than Pinkerton, not even the first album", he added.

Pinkerton is darker and rawer than any Weezer album to date. Vulnerability seems to be at the core of many of the tracks and the offbeat sense of humour displayed in the lyrics is more disturbing than funny. Cuomo even writes a song about having a crush on a lesbian. Every track is strong even the closer "Butterfly", which is the only acoustic number on the album.

In some ways this is Weezer's version of "Pet Sounds". Not because it's revolutionary sounding, but because Cuomo shows his growth and evolution as a songwriter as Brian Wilson did almost 40 years ago. And the fact that the album literally bombed at it's release, like Pet Sounds, only to gain recognition years later is testament to Cuomo's talent and ability to write perfect pop-rock songs. Weezer's music may not change that much but it's that enduring quality that appeals to fans and critics alike who hail them as one of the best rock bands to come out of the post grunge era.

Pinkerton: **** out of 4 stars

Strong Cuts: All of them.