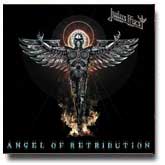 Judas Priest: Retribution

Leaving home is a life altering change and if you ever return to that place again later in life, it will feel different. Whenever bands break apart, the time that goes by is precious because the life experiences they are each experiencing at these given moments are not translated into their art. It's even harder to get the juices flowing once again. Look at The Eagles, they reunited in 1994 for a tour and since then have released a total of five new songs. They have not released a proper album since 1979. I think one of the reasons is that building upon the foundation of a band with that much history is tough. However, just recently, one band has emerged and appears to be right at home once again, fifteen years after their last studio release; Judas Priest.
It's hard to believe that it's been fifteen years since the last time Judas Priest released an album with vocalist Rob Halford. Following 1990's outstanding "Painkiller", Priest surprisingly disbanded due to Rob Halford's urges for a solo career. In the fifteen years since he left the band a lot has happened. Priest found another singer, from a Priest cover band no less, Rob Halford came out of the closet and even a movie was made depicting the entire series of events, "Rockstar". However, for the last six or seven years Halford has been on extremely friendly terms with the band mates, ever since her invited them to his parents 50th Wedding Anniversary party. It appeared that a reunion was imminent, but fans had to wait until early 2004 for an announcement to finally reveal itself. Before the band returned to the studio to make a comeback album, they took to the concert stage with Black Sabbath at 2004's Ozzfest. The reviews were glorious and everyone who saw them said the band did not miss a beat.
As good as the band may have been last summer; the question was on everyone's minds- could they take that energy into the studio and make an album worthy of the Priest cannon? The answer came in early March 2005 with the release of "Retribution". From the album's first track "Judas Rising" to the final thirteen minute epic "Lochness" I'm happy to say this album shakes the foundations of the metal community as an album all genres of metal should take notice of. In fact, it's the opinion of this writer that this album ranks second only to Anthrax's 2003 album "We've Come for You All" as one of the defining metal records of this millennium. I for one was never a huge Priest fan growing up, yet they were always a band I admired. Later in life, and with the help of last year's "Metalogy", a 5 disc box set encompassing Priest's entire career, I have come to value the immensity of this band who stands up there with Led Zeppelin, AC/DC, Black Sabbath as the pioneers of metal music. Not only has the music scene changed drastically the last time Halford and company put the black leather and studs on, but the metal scene itself has done a 180-degree turn. When most of the pioneering metal bands broke up or went their separate ways in the 1990's it opened the doors to a innovative types of metal and hybrids of metal and hip hop. Some of the bands have thrived and others have proven themselves as nothing more than a flash in the pan. Which brings a valid question to the forefront; how does a metal band move forward musically without dating themselves? It's a daunting proposition. Metal at its core does not really transform that much in terms of sound. Some bands, like Anthrax, age gracefully and others struggle to find distinctive voices for themselves after a handful of albums. I'm happy to say Judas Priest has made an album even the most hardcore metal fan will enjoy.
It blends crushing guitars with melody, most notably on the first single, "Revolution". The biggest advantage on this Priest album compared to the ones with Ripper Owens is the return of one of the defining voices of Metal, Rob Halford. His vocal rage is in tact and the screeching howls that made him legendary are in tact on "Angel of Retribution".
"Judas Rising" leads the album off and what a deafening declaration from one of metal's founding fathers. The performance of the band is crushing. Anyone who thought the band may lose their edge with age will be proven wrong.
"Deal With The Devil" is a speedy, fast-driving number with a classic Priest chorus. One listen with your eyes closed, it could very well be 1992, it appears the band is picking up right where they left off after "Painkiller".
"Revolution" is the album's first single and arguably the best track on the album. The most mesmerizing aspect is the rhythm section and how they lead the song while the guitars fill in the colors. Halford's vocals are subtle, but they fit the song perfectly. This was a track that very easily could have been sped up and been reminiscent of a 70's speed metal track, but the bands persistence let's the song breathe and brings Priest into the 21st Century with a classic metal song. One can only imagine if Metallica had gone this route with "St. Anger"…what an album that would have been.
"Worth Fighting For" is mid-tempo for Judas Priest. This is my favorite track on the album. Once again, the verses are delivered with restraint, and because of this approach, the song is all that much more concentrated and prevailing.
"Demonizer" should be the theme music to perform an exorcism, what starts out as mid-tempo slowly builds to a near speed metal number, however, throughout the swiftness of the music is a resonant melody, not lost under the burning guitars. At the song reaches its climax, Priest fans will revel in the classic Halford howl as he nails it and releases it with zealous zeal so powerful it would excise any evil spirits within a 100-mile radius.
"Wheels of Fire" is the most generic tune on the album, uniform in every way.
"Angel" could be depicted as the dreaded power ballad, however, before the fear and anger takes over your body, let me tell you it's a ballad without the power attached to it. This is actually the song, on "Retribution", with the deepest lyrics that appear to be more a song…but a prayer, demonstrating that Judas Priest is still evolving…thirty-plus years after their birth.
"Hellrider" is Priest as their most classic. Musically there's not much inventiveness going on here, but it boasts the best metal riff on the record. When the track was finished all I could think of was that die-hard Priest fans will be wetting themselves after hearing this track, pure proof they are still Metal Gods.
"Eulogy" is a moody interlude, clocking in at less than three-minutes set up merely as a broader intro to an over-the-top finale.
"Lochness" clocks in at 13:28. No, that's not a typo; the song truly is over thirteen minutes long. Some Priest fans are heralding it as a masterpiece and others are dismissing it as the most self-indulgent track the band has ever committed to tape. I fall in between, it's a solid track, possibly a bit overlong, however, the band with this epic thirteen-minute track clearly makes their presence known as their re-enter a much different musical marketplace and metal market where acts like Iron Maiden, Priest and Motorhead are seen as Godfathers. However, what most may be surprised to learn is that Priest can still run with the best of them and even show many of the new and up and coming metal acts how it's still done.
"Angel of Retribution" shines with the severe sounds of a band that is reinvigorated. Time has been good to Judas Priest as the time they spent away from each other has added to the yearning and desire they put back into this album. Aside from the new view on life, they also bring thirty-plus years of musical experience with them making an album that holds up to most metal standards today. Who say's you can't go home?
Album Grade: B+