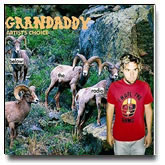 Jason Lytle from Grandaddy brings us this new compilation entitled Below the Radio, which features some of his favourite songs from various artists. Most of the tracks are laid back, easy listening sombre tunes that are not necessarily the most famous songs off each of their respectable albums but they all fit into a certain mood. Within the booklet, Lytle gives listeners a little essay on each song giving the reason why they are favourites of his.

Beck's "We Live Again" from his underrated 1998 album Mutations kicks things off setting the tone early on followed by Beulah's "Burned by The Sun", which is the most upbeat track off the album making it a little out of place. Snow Patrol's "Run" is your typical post-grunge cheerless song that I've heard a thousand times before by many other artists (Chevelle comes to mind) but that's why it keeps being repeated, because the formula works.

The CD chugs along with songs by the Fruit Bats, Home, Jackpot, Blonde Redhead, Virgil Show and The Handsome Family, who have the most solemn tune on the album with "I Fell". The hidden gem on this album of hidden gems is Little Wings' "Sand Canyon," which is an quirky folk-rock tune sung by a singer whose vocal talents leave a lot to be desired. The compilation ends off with a new Grandaddy song that does fit in with the overall theme of the album but seems to be just tacked on more for promotional purposes than anything.

I couldn't help but enjoy this CD because even though it features a wide array of artists, there is a consistency to the record usually associated with a normal non-compilation album featuring one artist. Lytle has assembled a CD that clearly defines his love for sadly, haunting songs that are not necessarily well known or radio friendly hits but that doesn't make them any less poignant and enjoyable.