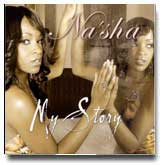 What started off as a typical Friday evening changed into a riveting musical experience when I listened to a CD by Na'Sha (Pronounced Nay-sha), a new edition to the R&B crop of female artists.

I read her bio after listening to the CD, which I normally do in the reverse. As a result, I was first impressed with her voice and after reading her bio was even more impressed to know that she is only 23 years old and wrote 14 of the 15 tracks on her album entitled 'My Story.' Na'Sha's songwriting compliments both her well-delivered vocals and top-notch production from seasoned producers Scott Storch, James Poyser, Sting International, and R&G (the latter with whom she's been recording since the age of 16). Her R&B/soul/gospel/neo-soul sound is sure to capture your interest. She is reminiscent of so many artists that there is really no use of comparing her because she creates a style all her own.

For most reviewers, we can tell within the first thirty to sixty seconds if we are going to like an artist, the song, or the album. Within the first thirty seconds of hearing 'My Story' I felt that I had heard most, if not all off the songs before. I went from track one to three, feeling as though I must have had this CD in my collection already. I flipped the CD case from front to back, "Surely I must have gotten an advanced copy before," I thought. I was singing the words, but was confused, how was I able to sing the words and I had not heard the songs before? Put simply, a good solid album can make you feel this way and good songwriting makes the words echo in your brain. This album has captured what current female R&B artists have been missing: soul, depth, and versatility.

Each song introduced Na'Sha as a new person. If it weren't for the fact that I knew she was a solo artist and not a group, I would have probably said that each song was sung by a different person. In most cases, that versatility can be overkill, but it was executed just right with this project. She shows her range as an artist and her ability to adapt to different producers without sounding monotonous or predictable.

The album starts off with "Get To Go Home," a song about a guy who attempts to go a little too far and then, "It's Not Worth It," that deals with relationship struggles. The title track and my favorite on the album is "My Story" which is reminiscent of R. Kelly's "A Woman's Threat", and "So Sexy" is a club banger that's sure to get the ladies on the dance floor getting their sexy on. "Saturday" is a feel good song that feels like it belongs as a theme song to a cartoon or a Saturday morning kid's show; it just showcases more of her versatility!

Although the R&B genre is currently crowded with female artists, Na'Sha will rightfully stand out from the pack and make her own mark within the industry as both a songwriter and a singer. I am eager to see where her career will take her, but I'm most certainly sure it will be far.