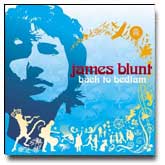 Close your eyes. Now think of rolling Howie Day's guitar-playing presence in with a twinge of Rod Stewart's voice. This, combined with some very original and emotional lyrics, begin to describe James Blunt and his recent back to bedlam release produced by Tom Rothrock. James Blunt cites such influences as Pink Floyd and Led Zeppelin but this manipulation isn't really seen much beyond the era or the psychedelic Jim Morrison-esque cut out that adorns the cover of his first full-length album.

When I listen to back to bedlam, I hear a reflection of life, love and brutal reality from an aspiring artist whose resume even includes time spent as an army captain. "Goodbye, My Lover" closes the book on a relationship that has run its full course from the perception of a scorn mate. At the same time, "No Bravery" looks back at James' war-torn time in the army as he outlines the tragedies of war perceived by an innocent mind. Some of the more mellow tracks on the album are "Cry" and "High" that deal again with reflection and where we all really are in this mess of a world. James Blunt's genuine lyrics make his freshman album one worth picking for a new listen. With a variety of sound (he plays "No Bravery" on the piano at live shows), lyrical influence, song substance and pure enthusiasm, back to bedlam is a fresh new sound worth letting your mind explore. OK, now you can open your eyes.

Some additional song highlights include:

"You're Beautiful" – Without the video of him stripping down to accompany the sentimental lyrics, this single tells a story that all of us have questioned at some point in time.

"So Long, Jimmy" – A selective reflection on the short-lived life of Jimi Hendrix. James Blunt pulls words from Hendrix song titles to piece this montage together. A song that I feel does more justice live than on the studio recording.

"Billy" –. With an upbeat hook (compared to most of the album) that makes you instantly want to put this song on repeat, Billy stares into the soul of a lover who has realized his terrible, hollow mistakes.

"Wisemen" – Self-described by James himself as being a song about "doing your own thing, and going your own way," Wisemen is a rhythmic song that is very, very catchy – much like this whole album.
Track List

High
You're Beautiful
Wisemen
Goodbye My Lover
Tears and Rain
Out of my Mind
So Long, Jimmy
Billy
Cry
No Bravery