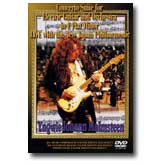 It's become quite fashionable to play with an orchestra if you're in a rock band. Metallica's done it, KISS has done it, other bands have done it – and not to knock what they've done - the bands thus far who have combined forces with full orchestras have created amazing sounds and performances.

But Yngwie Malmsteen doing this makes a whole lot more sense. Rather than taking a bunch of rock songs and having them accentuated by classical musicians and instruments, Malmsteen's music was written so that playing it along side an orchestra is the most natural thing in the world.

In the 80's and early 90's we all thought that Malmsteen was cool - sort of an oddity if you will - but at that time wailing as fast as one could on the guitar was "in." Malmsteen doing it in a classical manner was unique but I don't think anyone truly got what it was he was trying to do. He looked cool, sounded cool, played a killer guitar - so we just pulled him into the incestuous realm of metal that we reveled in. And although Malmsteen's album, Odyssey, accompanied by Joe Lynn Turner's quintessential vocals, was an ideal fit for that time and place in the mainstream – Malmsteen still wasn't quite at home.

Alas, now we can enjoy Malmsteen in all the glory of his true calling - originally filmed back in 2001 with the New Japan Philharmonic led by Maestro Taizo Takemoto, and joined by the Ritsuyukai Choir.

Starting out with Black Star Overture performed by the Orchestra alone, then Maestro walks over to the side of the stage to bring out the flamboyant Malmsteen in crushed velvet, ruffles, and black leather regalia.

Some highlights of the concerto include: Icarus Dream Fanfare with its crescendo while Malmsteen's guitar simply cries out in beauty. Cavalline Rampante, which is the most fun of the DVD, visually – Malmsteen beams as he plays this piece that almost sounds like a jubilant march. Prelude to April, featuring Malmsteen on an acoustic Ovation, precious and flowing intensified by the orchestra, a true musical gem. Sarabande – again with Malmsteen playing acoustically, an airy piece where the guitar meshes beautifully with a harpsichord. In Vivace, Malmsteen's presiding over this powerful piece is authoritative, and Presto Vivace is colorful and spectacular – a grand finale of a fireworks show put to music.

Wrapping up the encore, Malmsteen and the Philharmonic perform Far Beyond The Sun, this shows Malmsteen at his absolute best while also becoming more loose and proving that even a great musician can also be a great showman. This piece is extremely well arranged, a masterpiece.

Bonus features include the song Evil Eye from the same concert, and a short interview with Malmsteen. Sadly, the interview is audio only; still photographs are shown while the interview is played.

This DVD is more than perfect for guitarists, for Malmsteen fans, and for open-minded classical music enthusiasts. However, any concert featuring a virtuoso can be a little long or dry for the masses, those whose musical tolerance is for about three and a half minutes and includes vocals, hooks, and lots of repetition. This isn't a typical, commercial concert – but it's a unique musical treasure.
---

Related Links:
Eagle Rock Entertainment, LTD
Yngwie Malmsteen's Official Website
Melanie "Sass" Falina Official Website