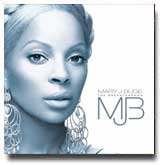 Anyone who knows me knows that I'm a huge Mary J. Blige fan. I loved Mary when she hit the scene with "What's the 411?" and continued to love Mary when she dropped, "My Life," "Share My World," "Mary," "No More Drama," and "Love and Life." It goes without saying that I have been eagerly anticipating her newest album "The Breakthrough," as have many Mary fans.

Mary J. Blige fans are a special breed of fans, because we take Mary with all of her flaws. We understand the grittiness that is Mary. We expect it, we accept it, and we love and appreciate the realness that she offers. She is a rare artist, in that she's honest about her weaknesses. While others camouflage their weaknesses, Mary drops hers on wax and makes it a permanent part of history. She bears her soul and allows us to experience with her; her bad relationships, heartbreaks, and shortcomings. We relate, because we have all been there at some time or other. And when she is in a good place in her life, she allows us to experience her love, her happiness, her world.

Mary is like the girl that sings in your church choir. She's your cousin, your friend. She emotes from her soul a passion for music, and lyrically and vocally I feel this is one of her best bodies of work, far surpassing her last CD "Love and Life."

Mary fans will be pleased to know that she did not disappoint with "The Breakthrough." "The Breakthrough" contrary to the rumor-mill is no greatest-hits package. "The Breakthrough" serves up 16 tracks of the highest-caliber hip-hop/soul tracks with production from producers Dr. Dre, Jimmy Jam, Terry Lewis, and Will.i.am.

Though I can't really skip any of the songs on this CD, the standout tracks for me are "About You," the lead single "Be Without You," and the passionate outcry "Take Me As I Am." Jay-Z lends his vocals to "Can't Hide From Luv" where the earlier comparisons to Aretha Franklin our ever so powerful and the gospel tinged "I Found My Everything" rounds off my list of favorites. Mary's singing has gained a sense of maturity and the 16 tracks on this cd prove clearly that she has grown vocally, spiritually and emotionally.