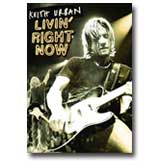 ARTWORK: The sepia tone photo doesn't stand out and is really easy to overlook. There is a photo of Keith on the cover, so it has some aesthetic value, but it's not an eye-catching, attention-grabbing photo. There are some nice pix in the inner sleeve fold out that are much better than the cover shot.

SET LIST: These are the Days (intro), Days Go By, Better Life, Raining on Sunday, You Won, You're My Better Half, Blacktop, Grace of God, The Hard Way with Katrina Elam, Making Memories of Us, Jeans On, You'll Think of Me, She's Gotta Be, You Look Good in My Shirt, Free Fallin', Somebody Like You, Tonight I Wanna Cry, Who Wouldn't Want to Be Me, These are the Days

TIMING: This concert was filmed in December of 2004. The DVD is released the last week of September, 2005. In other words, it's already a bit outdated. Jerry Flowers took over bass duty from Mark Hill early this year. The set list has been improved by dropping The Hard Way so that there is no longer that lull that comes from following it with another slow song, Making Memories of Us. Many Be Here songs have been added as staples including Nobody Drinks Alone, Live to Love Another Day, and God's Been Good to Me which showcases Keith's banjo playing. So, it's a shame that this show is used for the tour when the shows have improved as time goes by.

FILM QUALITY: The show is filmed in high definition and is very clear. However, having been to 13 Keith Urban shows, I don't remember any of them being as dominated by red lighting as this video presents. There are some grainy shots for affect, a quadruple spilt screen to show angles when Keith takes a stroll through the audience during Blacktop, and some cuts to black and white. Overall, I thought there were too many long shots and too many audience shots.

THE SHOW: Aside from the lull I mentioned earlier, the show is a high energy performance that showcases why Keith is the reigning Male Vocalist of the Year for both the Academy of Country Music and the Country Music Association. Even as gifted as Keith is as a vocalist, he is even more masterful as a guitarist. Because, as he says, he plays what he feels, you never know exactly what to expect with his solos. He says they "lack consistency." I say the subtle changes make every show a special experience. I was on the edge of my seat waiting to hear what sound was next and I've never been so infatuated with the guitar to care like that while watching other artists' performances. I even avoided hitting skip when Making Memories of Us started because there was a close up shot of Keith's right hand doing that pick-no pick-pick-no pick switch-a-roo he does while playing. I'm sorry to say I'm not a big fan of ballads and can only take so much at a time, but I enjoyed the song, even though it was a slow number because the playing made it interesting.

From the opening notes of These Are the Days until the show came full circle with the complete song closing the set, Keith had the audience in the palm of his hand. Pandemonium erupted when Keith jumped off the stage during the solo for Where the Blacktop Ends and strolled around the theater among the audience. Despite the onslaught of fans, he only missed a note when he jumped back on stage. Raining on Sunday is always a highlight. You Won started with some funky playing and ended with a reverent surrender. But for the Grace of God was beautiful in acoustic glory. Jeans On was a fun sing-a-long. You'll Think of Me has to be the best breakup song ever and is delivered with the kind of passion that can only come from living the lyrics. Tom Petty's Free Fallin' gave everyone in the place a chance to flex their vocal muscles, particularly about seven people in the balcony. Tonight I Wanna Cry gives Keith a chance to play piano. Somebody Like You and Who Wouldn't Want to Be Me brought down the house in exuberant celebration. Throughout the show, Keith was attentive to the audience in ways that make them really connect with the music as part of the show. His true joy derived from singing and playing was infectious. It would be difficult to see a Keith Urban concert and not catch a bit of the delight that shines from within him. What can I say? It's fantastic.

EXTRAS: The audio track of Most People I Know (Think That I'm Crazy) makes a great bonus—especially since it saved me a trip to the GAP. It would be nice if it would play in a regular CD player though. The two acoustic solo performances from soundcheck are gems. You're Not Alone Tonight is a beautiful that seems perfectly designed for this setting. Don't Shut Me Out from Keith's debut solo CD is one that we rarely hear, but after seeing it like this, I'd like to hear it more often. Now, I have an issue with Homespun Love. That song is, without question, one of the highlights of the show every night. While the behind-the-scenes directions to the band are interesting the first time, the song would have done better left in the full set without the cut. That will get old after the first few viewings. The brief interview clips add something special without detracting from the concert footage. It would have been even better to have a longer interview though. The photo gallery has some nice shots.

EASTER EGGS: I haven't found any, but I'm not good with that sort of thing.

OVERALL: Well worth the purchase price and sure to be a DVD that I will play again and again.