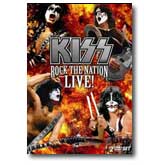 What do we have here? Another KISS DVD to follow up the 2003 release, KISS - Symphony. In 2003, KISS members traveled Down Under to play a live show – no, make that an extravaganza - with the Melbourne Symphony Orchestra. So, how do you top that? How do you come up with something new despite a lack of new material? How could any rock band move up yet another notch on the scale of stellar performances and pack it all into a single live show that will speak volumes for the current status of the band? Well if anyone could do it, KISS can, and has.
Not only does the KISS: Rock The Nation Live! DVD give viewers a delectable taste of their record-breaking 2004 tour, but marketing geniuses that they are, KISS also has managed to tap into cutting-edge technology to offer a truly unique experience. With what's called the "Select-A-KISS" feature available on seven of the 20 live songs, viewers have the option to select any of the four available camera angles. Scrolling through and choosing different band members to focus on, or shots of the crowd, fans can watch this DVD over and over again without ever seeing the exact same show twice. Not only can you see things that generally get edited out, like drummer Eric Singer spitting out his gum or vocalist/bassist Gene Simmons trying to pull confetti off of his face while singing, but you can go back and view each member doing their own snazzy thing – something that's important with a band as visual as KISS.
Above all, this DVD appears to have been produced as a tribute to the fans. No other band, past or present, can make an audience feel as if they're an essential part of the show the way that KISS can. If you've ever seen KISS live, you know what I'm talking about. It's no wonder that long-time KISS fans feel as if they own stock in the band, so to speak. Forward over to Disc 2 and watch the song "100,000 Years" for proof of the symbiotic relationship between KISS the band and KISS-fans. KISS concerts aren't shows in the classic sense where you sit down and simply watch a performance – a KISS concert is a party where every one is singing, every one is dancing, and every one is a part of the festivities.
Some highlights of this show are the songs: "Love Gun," Singer bashing his heart out in "Makin' Love," "Lick It Up," "I Love It Loud" - where it looked like vocalist/guitarist Paul Stanley was having a blast goofing around with the fans, "Shout It Out Loud," "I Was Made For Loving You," and the impressive tight groove of "She" despite the distraction of Gene Simmons' tantalizing hip thrusts. Then of course the necessary components of any KISS show: Paul Stanley's amazing ability to practically do aerobics in break-neck heeled boots, Simmons both spitting blood and fire (just not at the same time), and the endless plethora of beautiful women.
Bonus features include back stage, sound check, travel, and downtime clips of the band. Eric Singer giving nightly lap-dances to Gene Simmons in the dressing room, guitarist Tommy Thayer fluffing Gene Simmons' hair, Paul Stanley's speaking in earnest of trying to learn more about the fans during the meet & greet experiences, and clips of Tommy Thayer and Gene Simmons bowling. Shame on me for thinking that bowling wasn't cool!
Wrapping up the show, KISS performed some of the songs they're expected to play; like a feral yet flawless version of "Detroit Rock City," and their confetti-spewing theme song "Rock And Roll All Nite." The only song that didn't come across as well polished as the rest of the songs in the show was "Tears Are Falling," an amazing, yet under-estimated, KISS song. Announced before beginning the song that this was only going to be the second time they'd performed it on the tour, it might have been a good idea to have played it a bit more before recording it live. This version of "Tears Are Falling" just didn't quite hit the mark with vocals that were a little off and sounded slightly awkward. However, it's honest - no band or performer ever has a "perfect" show.
KISS has always had its critics, but in the day and age of Marilyn Manson and Slipknot is KISS' makeup and costumed gimmick really that much of an oddity anymore? KISS has perpetually released classic material, given outstanding performances year after year, and endured more than three decades in an ever-changing and fickle music industry. KISS still rocks harder than musicians half their age. This is why their fans are as adoring as they are, and why they're willing to march on the Rock & Roll Hall of Fame to insure that KISS is both accepted and regarded with the respect they deserve.
KISS: Rock The Nation Live! DVD is not only a fun, rocking live performance; it's the testimony of veteran rock and rollers who simply know how to do it right.
RELATED LINKS: