AC/DC has been producing music and touring now for oever 40 years. Bringing best-selling records of all time such as "Back In Black," since 1973. Brian Johnson (Vocals) is in his 60's while the youngster, in more ways than one, Angus Young (Lead Guitar) clocks inat 54. How can a bunch of blues lovin' blokes still inspire young girls to flash their boobs; even while their fathers are at the same show? It's very si... [Read More about AC/DC]
Roadrunner Records recording group Black Stone Cherry has announced the release of their eagerly awaited new album, 'MAGIC MOUNTAIN' which arrives everywhere on May 6th.
Produced by Joe Barresi (Queens of the Stone Age, Soundgarden), 'MAGIC MOUNTAIN' will be heralded by the first single, "Me and Mary Jane," set to impact multi-format rock radio outlets nationwide in mid-February.
Black Stone Cherry commented on the making of 'MAGIC MOUNT... [Read More about Black Stone Cherry]
March 20, 2017
Tramar Lacel Dillard (born September 16, 1979), known professionally as Flo Rida (pronounced /ÌfloŠ ÈrajdY/), is an American rapper, singer, and songwriter from Carol City, Florida. His 2008 breakout single "Low" was number one for 10 weeks in the United States and broke the record for digital download sales at the time of its release.
Flo Rida's debut studio album, 2008's Mail on Sunday, reached number four in the US. The album was succeeded by R.O.O.T.S., the next year. ... [Read More about Flo Rida]
March 20, 2017
Adam Ant (born Stuart Leslie Goddard; 3 November 1954) is an English musician who gained popularity as the lead singer of new romantic /post-punk group Adam and the Ants and later as a solo artist, scoring 10 UK top ten hits from 1980 to 1983, including three No.1s. Ant was also popular in the United States, and once voted sexiest man in America by the viewers of MTV. He has also worked as an actor, appearing in over two dozen films and television episodes f... [Read More about Adam Ant]
March 18, 2017
Each year, the Wednesday before Thanksgiving, it seems like each male and female wants to party. Well, this year was no expectation. I live in a small community. Actually, a really small community. So, when there is a chance for me to get out and witness a great rock show at my favorite local bar, I totally jump at the chance.
Route 12 Bar in Fox Lake is your typically watering hole with... [Read More about Emperors and Elephants]
March 16, 2017
Bad Suns with From Indian Lake
Stage AE Clubhouse, Pittsburgh PA
Thursday, March 9, 2017
Review and Pictures by Lisa Sikon
ld out crowd ... [Read More about Bad Suns]



March 14, 2017
Pop Star JoJo Makes Atlantic Records Debut with Simultaneous Release of Three New Singles
Acclaimed singer-songwriter JoJo joins Atlantic Records' much celebrated roster. The singer makes her long awaited Atlantic debut with three new singles. The three distinct singles titled "III." are: "Say Love," "Save My Soul," and "When Love Hurts"; all of which will appear on her highly anticipated third album.
The not yet titled new album has already made a major impact, mo... [Read More about JoJo]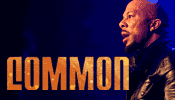 March 14, 2017
COMMON'S 9TH STUDIO ALBUM "THE DREAMER, THE BELIEVER"
ALBUM RECEIVES "BEST OF 2011" HONORS AND ACCLAIMS ACROSS THE BOARD IN REVIEWS
Warner Bros. Records releases Grammy award winning rapper, actor, and author Common's highly anticipated album The Dreamer, The Believer. "Common has been a fabulous partner for the Warner Bros. label," says Warner Bros. Co-President and CEO Todd Moscowitz. "His cross-over appeal, work ethic, and heightened visibility, have allowed us to ma... [Read More about Common]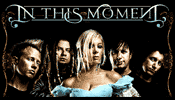 March 14, 2017
Maria Brink questions her treatment of her significant other in this metal tune. "Is it sick of me/To need control of you/Is it sick to make /You beg the way I do…..Are you sick like me"
Robert Kley lays some demented guitar down as Maria dominates this video with her steel claws, red bustier and thigh high black boots. Brink actually has too many costumes to describe her... [Read More about In This Moment]
March 13, 2017
Read More about Phoebe Hunt & The Gatherers]